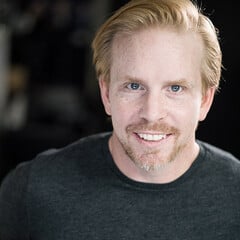 Patrick Doyle
Character Artist / Art Director
Between Seattle and Vancouver, BC, United States of America
Summary
My background is in Advertising. As Creative Director I was charged with crafting creative briefs, scheduling deadlines, and overseeing everything from initial concepts to the delivery of the final product to the client.
After Art Directing a series of animated commercials I made the insane decision to leave security and pursue my love of 3D art. For the past couple of years I've dedicated my life to learning the necessary skills and building a portfolio, which highlights my strengths.
My goal is to join a team with a mission of creating ground-breaking work with focus on story and character. I have no fantasies about what the work will entail, and understand the commitment and dedication it demands. My core value is respect for everyone at every level, and believe there is no room for ego. Make me a part of a team that's dedicated to awesomeness and is constantly pushing ideas, and I'm good.
Skills
2D Animation
Anatomy
Environment Design
User Interface Design
3D Modeling
Character Modeling
Hard Surface Modeling
Character Design
Character Animation
Level Design
Vector Illustration
Storytelling
Cartooning
Book Cover Illustration
Software proficiency
Experience
Character Artist / Art Director at Octosphere Studio

Bellingham, WA, United States of America

Currently taking on every role in the process (from pre- to post-pro) to create the animatic cartoon series for children, "Lair of Forgotten Bears" (www.LairofForgottenBears.com), but it's my mission to join a team driven by passion to create ground-breaking work with story and character.

Author, Illustrator at Rothco Press / Armadillo Books

Los Angeles, CA, United States of America

I'm the author of nine books and the illustrator for six of those.

Creative Director at Advertising Agencies

San Francisco, United States of America

As the creative team lead I was responsible for overseeing creative briefs, time management, quality control, creation of multimedia campaigns, and most importantly — making sure my team was challenged and proud of the work we produced. Advertising had the fast-pace atmosphere I crave, allowing me to continuously learn from my team and problem solve on-the-fly (Fire Drills).

INSTRUCTOR at Academy of Art University,

San Francisco, United States of America

April 2004 - November 2006

I was honored to be asked to teach Introduction to Advertising and Senior Portfolio with a focus on concept at my alma mater. This ranks as one of my greatest accomplishments, not only because I was able to teach, but because my students inspired me and pushed my creativity every week.